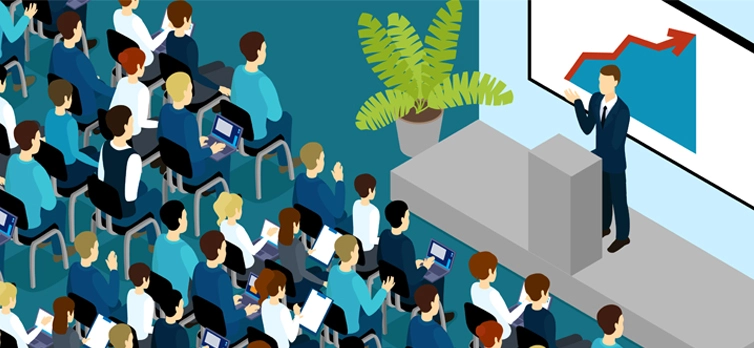 Course Description
Have you ever been baffled when you were unexpectedly asked to make a few comments? Well, this often happens in school, at work or even in social settings.  If you are not confident to speak in front of others, you may end up rambling without making a point and putting yourself in an awkward situation.   Public speaking is people's greatest fear but overcoming this fear could have a huge impact on your personal and professional life.
This course is beneficial for everyone.  It gives you in-depth information on becoming comfortable at public speaking.  If you are a beginner, it will help you to get familiar with the basics of public speaking.  However, if you are already comfortable speaking in front of others, this course will provide you with valuable guidance on developing an engaging program that enables you to deliver your core messages and ideas effectively.  The course also aims to boost your presentation skills that capture the attention of your audience.  You will also learn to organise your talk clearly and deliver confidently as well as get useful tips on handling questions.  Above all, your fear of speaking publicly will be significantly less because of having learnt the tips of speaking publicly.
Course Objectives
Research has consistently demonstrated that when clear goals are associated with learning, it occurs more easily and rapidly. By the end of this course, participants will be able to:
01
Determine who their audience is
03
Plan and arrange their thoughts
04
Bring their presentation to life
06
Get the details in order
08
Make an engaging and professional speech
09
Manage questions and comments effectively
What Is Included In This Course
Frequently Asked Questions
Do you offer a Free Trial?

We do not offer a free trial because we already provide in-depth details about the course complete with the course background, objectives and learning outcome to help you decide before you buy any course.

How do I find a course?

If you are browsing courses, use the search to find what you are looking for.

How old do you need to be to take a course at Skillz for the Future?

Skillz for the Future courses are appropriate for all ages starting from those studying high school and above.

Can I learn anytime with Skillz for the Future?

Yes! Skillz for the Future courses are 100% self-paced which means you can learn anytime, anyplace at your convenience.

I purchased a coupon code for Skillz for the Future. How do I start learning?

To start learning with Skillz for the Future, you need to redeem and activate your coupon/voucher code. To activate your code, click on the following link _________________ and follow the instructions to set up your account.

How do I use Skillz for the Future once I have paid?

Once you have created your account and paid, you will receive a welcome email. Go to ________ and click login in the top menu bar or use this link ___________. When you sign in, this will take you straight to your dashboard and your courses, so you can immediately start learning.

How do I find a course/get back to a course I have started?

To search for a new course or if you are in the middle of a course and want to continue, click on My Dashboard in the top menu bar. Then use the search on the left.

Does Skillz for the Future issue certificates?

Yes! For each course you complete, you will get a course completion certificate of Skillz for the Future, issued by the 'Institute of Learning & Development', Hong Kong.

How do I download my certificate?

Go to 'My Courses'. Once you have completed the course and it shows 75% or above score, go inside the course and click on the "print your certificate" button. Your certificate will show your first name and your last name as specified under your profile settings.

Is Skillz for the Future certificate shareable on social media?

Yes! Skillz for the Future is shareable on social media like ___________. You can also download or print your certificate to retain a hard copy.